About Us
Project Hope & Fairness, Inc., is a California public benefit corporation that is in a 501(c)(3) status with the IRS. We are a volunteer organization based in San Luis Obispo, California, that was created to assist African cocoa farmers who suffer disproportionately from the inequities in the world cocoa trade with particular focus on the participation of chocolate producers and consumers in the United States. Currently, our Board of Directors has two members. We are looking for additional members capable of contributing the following: providing legal services, filling out tax forms, applying for grants, interfacing with primary and secondary schools and universities, and fund-raising.
Tom Neuhaus, President
Tom Neuhaus is the president and founder Project Hope & Fairness, Inc. Tom first thought of donating solar-powered freezers to villages after visiting Ghana, Ivory Coast, and Cameroon in 2003 and 2004, as selling bags of water or bissap (hibiscus tea) were important sources of revenue. On his 2005 trip, during which he interviewed several Ivorian cocoa farmers about their paltry earnings, it became apparent that one way of bringing more money into cocoa-growing villages would be to provide tools for increasing farmers' production efficiencies. Each of the subsequent trips have yielded new surprises and his efforts to make change have become more complex.
Tom is an owner of Mama Gana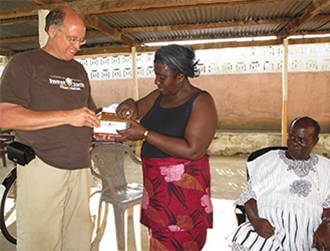 che Artisan Chocolates, Inc., one of the first uniquely Fair Trade/organic artisan chocolatiers in the U.S. (established in 2004). He is also an Emeritus Professor in the Department of Food Science and Nutrition at California Polytechnic State University (Cal Poly) in San Luis Obispo.Tom formerly taught for 16 years in the School of Hotel Administration at Cornell University, where he earned his PhD in Food Science. He also wrote afood column for the Washington Post from 1982-89 and for the Los Angeles Herald Examiner from 1984-88. Tom's tasks include: fundraising, purchasing and installing equipment in villages, serving as tour guide on trips to Cameroon, Ghana, and Côte d'Ivoire, making speeches, writing articles, and designing and maintaining the web site.
Robert Peak, Vice President for Development
In 2014, Bob Peak accompanied Tom to Cameroon, Ghana, and Côte d'Ivoire--the whole enchilada--and he charmed the pants off everyone, especially when he spoke Osage and explained how Native Americans and village Africans share a lot in common culturally and historically. Bob graduated from California Polytechnic State University in Food Science, and is a card-carrying member of the Cherokee and Osage Nations, Bob spent 25 years in the hospitality industry at the highest levels of management. Now in retirement, Bob spends much of his time capturing wounded wild animals and releasing them after they recover: check out this clip taken by the San Luis Tribune. http://www.sanluisobispo.com/2015/02/11/3486100/golden-eagle-released-atascadero.html
Lisa Nicholson, Advisory Board, Education
Lisa Nicholson is currently a Professor Emeritus teaching at California Polytechnic State University, San Luis Obispo. At Cal Poly her teaching and research interests include to tailoring theory-based nutrition communications for increased effectiveness within diverse audiences; Service/Community-Based Learning in the nutrition curriculum; and obesity prevention community outreach. She was a designer of the Pink and Dude Chefs cooking curriculum for after-school programing; collaborated on a video series of parenting nutrition tips with UC Extension Services; and consults to nutrition and health companies. Dr. Nicholson has held leadership positions in the Academy of Nutrition & Dieteticsat the local, regional and state level. Currently she is serving as an Advisory Board member at the San Luis Obispo County Food Bank, Project Hope and Fairness.
Lisa will be helping us to interface with schools and to bring the issue of cocoa sustainability to our primary, secondary, and university school systems; this includes developing coursework so that teachers and professors can more easily and quickly access information about child labor, child slavery, and the chocolate business. She also is advising Tom on best methods for presenting information on this site.
Our Mission Statement
The Mission of Project Hope & Fairness, Inc. is to assist African cocoa farmers who suffer disproportionately from the inequities in the world cocoa trade with particular focus on the participation of chocolate producers and consumers in the United States. Our purposes will be achieved through the following three activities: promote the sustainability of African cocoa farmers through direct assistance (grants and in-kind contributions); educate American consumers about the realities of the world cocoa market and the inequities being suffered by African cocoa farmers in particular; and encourage producers of the world's cocoa products to adopt Fair Trade policies that will benefit African cocoa farmers.
Donors